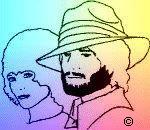 Now over 45,000 readers.

"Farewell To An Old Friend"



Winnie has been through a lot of adventures with us,
over many years...
good times and bad
It's hard to say goodbye.

I don't know if you get attached to "inanimate objects",
but we do.
After they've been with you a long time,
they have personality and feelings.

Winnie was never inanimate until her last few years.
She was always on the go,
scurrying across our big beautiful states
from one show to the next.

Winnie is short for Winnebago,
our home away from home.
We adopted her when she was gloriously new,
with zero miles on her odometer.
But eventually she got old,
and last week we had her towed away.
It's like having your dog put to sleep.

Many famous stars have joined us at Winnie's kitchen table.
One morning I was in the bathroom
when Misty called to me:
"Jack, George and Tammy are here".

Among the other visitors were Waylon Jennings, Grampa Jones,
Archie Campbell, Skeeter Davis, Faron Young,
Conway Twitty, and on and on.

Winnie should have been bronzed
and put in the Hall of Fame.
There should have at least been a funeral ceremony.
Can bagpipes play country music?

Maybe we're crazy,
but we said some teary goodbyes,
patted her walls affectionately,
and thanked her for the years of fun and comfort.
We left before she was towed away by a wrecker...
probably to a junkyard.
We couldn't watch.

We still feel sad when we think of her,
and even a little guilty.

Winnie was a big part of our life.
She took care of us,
and the very least I could do was write this.

Copyright © Oct. 19, 2004, Jack Blanchard. All rights reserved. Reprinted by permission.














©2007 www.jackandmisty.com. all rights reserved.