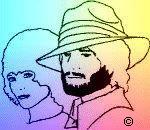 Now over 45,000 readers.

"FEMA In Florida"

If you received serious hurricane damage,
and have no insurance,
or no home left standing,
you can apply to FEMA for help.

You are first interviewed by telephone,
and an inspector is sent to your home
to make sure you're real.
The inspector tells you that you should hear from FEMA
in about ten days.

OK so far.

A month or more goes by
and not a word from FEMA.
You call their 800 number
and are told by a computer to select option three
for "The Help Line"
to check on the status of your case.

The Help Line robot instructs you to try again
later in your life,
and either hangs up on you
or gives you a busy signal and a finger,
but you can't hear the gesture.

We've called hundreds of times
all hours of the day and night,
and FEMA is just not answering The Help Line,
period.

Today our local TV Eyewitness News reported this:
"Most of the FEMA money is going to Miami/Dade."

Miami/Dade was one of the least damaged areas in the state,
but Miami/Dade is a crucial hotspot in the presidential election.

Copyright © Oct. 15, 2004, Jack Blanchard. All rights reserved. Reprinted by permission.














©2007 www.jackandmisty.com. all rights reserved.