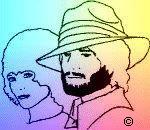 Now over 45,000 readers.

"The One And Only Eddie Simmons"

When I first got to Miami
I answered some help-wanted ads for piano players.
One was at The Sportsman's Lodge,
a restaurant and lounge
which sat right in the driveway of The Hollywood Dog Track. 

I auditioned for a man in his fifties
named Eddie Simmons.
I thought he was the owner,
because he had an air of authority. 

He was small, wiry, and bald,
except for a fringe of dark hair.
His nose pointed straight out
like Pinocchio or Cyrano,
but his Sean Connery eyes nailed you to the wall.
There was also a little of the sad clown about him. 

It turned out that Eddie was the singer and drummer
who would work as a duo with me.

He had one of the greatest voices I've ever heard...
the depth of Barry White, with Al Jolson's power.
He didn't need a mike. 

When Eddy sang, he was an actor
drawing the crowd right in. 

Everything Eddie Simmons did
he did with a flair.
He'd come out from behind the drums, during a song
and sing personally to women in the crowd.
It would have been corny if I had done it,
but Eddie had the touch. 

One week the chef was out sick
and Eddie cooked for the whole place,
making it look easy.
I saw him take a head of lettuce out of cold water,
and slam it down on the counter.
The core dropped right out
and the lettuce opened like a flower. 

He'd switch from the chef's apron and hat
to a waiter's jacket,
and glide out from the kitchen
with heavy laden trays of food held high over his head,
and serve it with a flourish, a smile, and a bow...
like a magician. 

Eddie had problems,
but he didn't let the public know it.
One was alcohol
and the other:
women. 

He married a nice lady named Betty
who got pregnant and stayed that way for about ten months.
The last few months she looked like the Queen Mary.
A doctor finally told her it was a "false pregnancy",
and she immediately deflated.
It was all in her mind.
She left Eddie for a Norwegian sea captain. 

Eddie did what alcoholics do,
but his singing was still genius,
especially the blues. 

The last I saw of Eddie
he was going with a lady alcoholic.
It was sad to see them drinking their lives away. 

Eddie Simmons was a star the world lost
before he was found. 

I wish you could have heard him sing
"When It's Sleepy Time Down South". 


(Please file under "true stories".) 

© September 2, 2003 Jack Blanchard. All rights reserved. 














©2007 www.jackandmisty.com. all rights reserved.