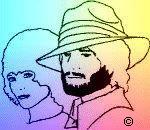 Now over 45,000 readers.

"Duct Tape: The Whole Sordid Story (For Those Who Tuned In Late)"
 
Monday. I wrote and published this innocent item: 

"DUCT TAPE": ANOTHER UNFINISHED SONG. 
I have the title and the first two lines, but I've stalled out there. 
Duct tape is a subject we can all relate to, so it's a sure hit. 
You write the rest of it and we'll split the royalties. 
Here's what I have: 
    "I DUCT TAPED YOUR PICTURE TO A PIT BULL, 
    AND IT FEELS JUST LIKE I'M COMING HOME TO YOU." 
You finish it and send it to me. You can trust me. 
Jack Blanchard. 



* * *



Tuesday. I reported the responses, some were angry: 

DUCT TAPE WEIRDOS. 
I've gotten more response to "Duct Tape: Another unfinished song" 
than any of the articles and stories I've written. 
It's a sad commentary on the quality of our readership, 
but it's nice to know I'm not the only weirdo in country music. 
Jack Blanchard. 
P.S. Keep them coming. You may be a winner. 



* * *



Wednesday. The momentun gathers. 
I reported this: 

DUCT TAPE CONTROVERSY CONTINUES. 
I've had nearly a hundred positive responses to my controversial 
and heartless remarks about Duct Tape, some of them pretty funny, 
and I've made friends with the people who were mad at me. 
Mother Teresa couldn't do better. 
Some people are sensitive about Duct Tape. 
I'm not anti-duct tape. It's the handyman's secret weapon. 
Sam Donaldson holds his toupee on with it. 
But I will say one thing: 
I'M SICK OF THE SUBJECT, AND I'LL NEVER MENTION DUCT TAPE AGAIN! 
Jack Blanchard. 



* * *



Thursday. There seems to be no end to it: 

DUCT TAPE IN THE HEADLINES!!! 

"PRESIDENT BUSH PROMISES DUCT TAPE TO EVERY MIDDLE CLASS FAMILY 
EARNING OVER $100,000 PER YEAR." 

"SECRET PLANS TO DRILL FOR DUCT TAPE IN ALASKA." 

"CLINTON CLAIMS HE DID NOT TAKE DUCT TAPE FROM WHITE HOUSE." 

"ELVIS SIGHTED DUCT TAPED TO UFO." 

"SEPARATED SIAMESE TWINS DUCT TAPED TOGETHER AGAIN." 



* * *



Friday. 
Now there are a number of Duct Tape songs and contests, 
and talk of Sam Donaldson suing me. 

It's taken on a life of its own, and I'm out of the picture. 

Copyright © February 14, 2001 by Jack Blanchard. Revised by the author 
June 10, 2001. All rights reserved.














©2007 www.jackandmisty.com. all rights reserved.