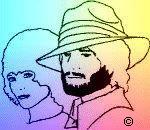 Now over 45,000 readers.

"Cruel And Unusual Reviews"

I'm about to commit a cardinal sin. I'm going to review a critic, 
who will probably take revenge on me with a bad review in the near future. 
But I can't help it. 
This critic is so cruel and arrogant that somebody should say something. 
I guess I'm elected.
We all know there are a lot of bad records being made every day, 
and critics serve a valid function by weeding them out. 
Otherwise all of our recordings could lose credibility. 
Also critics can alert the world to music that's really good. 
But, "You stink!" is not constructive criticism.

I have just read some of the most vicious reviews I've ever seen. 
Apparently the critic has no idea of the hopes 
and efforts that go into even bad records. 
The writer doesn't even seem to realize that these people 
are humans with feelings, or maybe just doesn't care.

I'm just going to show you these reviews, and let you decide 
whether this is the type of crap you want in country music. 
I'm leaving out the artists' names because they've taken enough abuse. 
I'm also leaving out the critic's name, 
hoping he or she appreciates the courtesy.

Here are the reviews that came in the email today:

"_____, if you would have kept your mouth shut and not have tried to sing to her, 
she might have stuck around. 1/2 Star."

"_____, somebody needs to stick a pin into your ego and let a little of that 
hot air out. You have a bad voice and your production sucks. Quit trying to be 
something you are not. Get a job. 1/2 Star."

"_____, you're a very pretty lady and your letter is every bit as sweet as candy. 
Whoever told you that lie about you being able to sing, was rotten to the core, 
for taking advantage of such a sweet lady. It is not nice to mislead a sweet lady, 
into making an idiot of herself. 1/2 Star."

This is unnecessarily cruel, not to mention amateurish.

And, here is this genius' take on record producing:

"As with a court case, a production requires objectivity. It requires a critical ear 
which demands you keep overdubbing a line or even a word, until you get it exactly 
right."

This is unnecessarily dumb.

I've been producing records for many years, some of them hits, 
and I believe that sometimes the artist's flaws can be the most interesting part. 
Should Joe Cocker have overdubbed and cleaned up 
the last note in "You Are So Beautiful"? 
Would Johnny Cash's great character show through overdubbing to perfection? 
Johnny even talks off key. We all love it!

Some of today's recordings have all the feeling produced out of them. 
Technically perfect, but sterile. 
Some of the greatest hits of all time were recorded 
directly to disc or tape with no tricks. 
Mixing was just where you placed the mikes. 
They ran through them a few times and picked the cut with the best feeling. 
No dubbing and no editing.

My review of this critic: 
Get a heart, and don't dish out knowledge you don't have. Rating: 0.

Copyright © March 7, 2001 by Jack Blanchard. All rights reserved.














©2007 www.jackandmisty.com. all rights reserved.