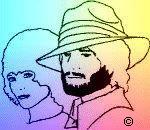 Now over 45,000 readers.

"Creative Listening"

Country songwriters often get ideas 
from Pop, Jazz, Blues, and other areas of music. 
They also get them from each other. 

It's not necessarily stealing 
if you hear a nice chord change or piece of melody, 
and convert it to fit your taste. 
It's more like research. 

Listening to something outside the Country Music box 
can be interesting, inspiring, and enjoyable. 

Some of the songwriters who have affected my work are 
Harry Nilsson, Gilbert O'Sullivan, John Fogarty, 
John Sebastian, Leon Russell, and Roger Miller. 
There is only one country guy in that list, 
and Roger got major awards for composing the music to "Big River", 
a Broadway musical. 

So Misty and I listen to Country 
as well as other kinds of music, 
and often come away feeling like writing a song. 

We also listen to our own recordings every day. 
It's not vanity... 
well, maybe a little, 
but it keeps us involved in our own style, 
and it makes us feel good about our selves and our life. 
Sometimes we get this feeling: 
"Did we really do that?!" 

Listening to music keeps us fresh. 

Right now Bob Seger is singing his beautiful song, 
"Someday". 

© September 21, 2003 Jack Blanchard. All rights reserved.














©2007 www.jackandmisty.com. all rights reserved.