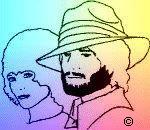 Now over 45,000 readers.

"Changin' Times"

There is only one thing we can depend on, 
and that's the thing we fear most: Change.
Relationships change, that's for sure. 
If we're lucky they change into something better. 
Different, but better.

The scenery of life changes constantly. 
Reality is fluid. 
We can never catch up on what's new and what's newly old. 
Best to go with the flow.

To get poetic, the winds of life change direction, 
strength, and the crap they blow at us, without let up. 
Like trees, we have to be flexible and bend or we fall. 
Getting tense about change tightens us up, makes us brittle... 
breakable.

I went to Nashville in the late 1960's trying to make it. 
The very first words I heard from the ones who were already making it were these: 
The business has all changed. 
You can't make it now. 
You're too late. 
It used to be easy to get ahead in music but it's all different now. 
Things like that. 
How many of you are hearing that now? 
My point, when I finally get to it, is: 
Don't let 'em scare you.

I think the people most afraid of change are those 
who have achieved a solid place to stand, 
and now the earth is shifting under them.

Three years after I was told those words, 
Misty and I were on top of the charts and winning awards. 
Those people weren't consciously trying to frighten me. 
I think they were just having trouble trying to 
make it work with the rules they had learned, 
but the rules are the first things to change.

I think the trick is: Just keep trying. 
Who can say what's impossible?

There are factors at work we can't control. 
Besides change, there's chaos and luck, all wild cards. 
If you are really good at what you do, 
work hard, and are lucky, you've got a chance. 
A chance has always been enough to keep me going. 
A ticket in the race.

Nothing will ever be the way it used to be, 
and nobody knows how it's going to be 
so that pretty much levels the playing field. 
If anybody's got a shot, you do. 
The only catch is you have to be in there trying. 
An old partner of mine used to say: 
"Do something, even if it's wrong." 
My friend Sam Atchley likes to remind me: 
"You must be present to win." 
My own is: "Dive in."

When I first moved to Florida I heard: 
You should have been here during the season. 
Duke Ellington said it this way: 
"Things ain't what they used to be." 
But, Mark Twain thought a winding road 
was much more interesting than a straight one. 
You never know what's around the bend. 
It could be great! 
So my advice to newcomers, again is: 
Don't let 'em scare you. 

I'm going to close this sermon with a song. 
One I wrote called "Changin' Times".

    I saw the old man down on Main Street.
    The crowds were passing him by.
    He set his old suitcase down,
    And brushed a tear from his eye.
    He shook his head at a world full of strangers,
    As far as he could see.
    Then he looked around at his old home town,
    And he turned and he said to me:

    "Changin' Times... Changin' Times.
    The wheels of life go spinning around,
    Oranges, lemons, and limes.
    They're selling all the good things in life
    For pennies, nickels, and dimes
    How we gonna find our way, wind our way home,
    In these Changin' Times?"

But we might find our way to someplace better.

Copyright © February 19, 2001 by Jack Blanchard. All rights reserved.
"Changin' Times" written by Jack Blanchard. 
Copyright © Jack Blanchard Songs (BMI).














©2007 www.jackandmisty.com. all rights reserved.