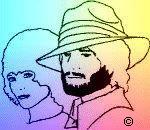 Now over 45,000 readers.

"Buffalo Horses"

When I was a young and innocent brat
there were a few horses among the cars
on the streets of Buffalo.

I remember the Dodd's milkman letting the kids feed his horse.
The driver's name was Jim.
I've forgotten the horse's name,
but it probably won't spoil the story.
My apologies to the very nice dead horse.

There was a uniformed midget
driving a tiny bakery wagon,
pulled by a Shetland pony.
He gave away miniature loaves of Wonder Bread.
For you younger readers,
they were called "Free samples".

When Tony, our vegetable guy, finally got a real truck
all the neighbors gathered in the street to congratulate him.
His father, who always rode with him,
just sat and beamed.
I don't think he spoke English.

One day a tarantula jumped out of the bananas on Tony's truck,
and panicked the neighborhood for a week.
We all became amazingly alert.

And then there was the legendary ragman.
He drove his horse drawn wagon
with the big wooden spoke wheels,
and shouted "Ed-agg!"
We all knew what he meant.
He sat under a large faded umbrella for shade.
Thinking back, he was weird.

I never saw anybody give him the rags he seemed to want,
and he wasn't kid friendly,
so he wouldn't get rag one from me.

Someday I'll tell you about the Hurdy-gurdy man.

Copyright © Oct. 3, 2004, Jack Blanchard. All rights reserved. Reprinted by permission.














©2007 www.jackandmisty.com. all rights reserved.