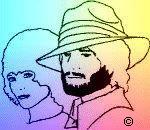 Now over 45,000 readers.

"BOBBY THOMPSON, 1937 - 2005."



I said funny things during recording sessions... 
not just to break the tension, 
but partly to make one person laugh...Bobby Thompson. 
He had a terrific laugh, and was my best audience. 
Soon the whole session was like a party. 

We didn't know Bobby well, except from recording, 
but we loved him. We couldn't help it. 
He was probably the humblest genius we've ever met. 
A genuine nice person. 

Lloyd Green told me this: 
"Bobby is the greatest five string banjo player in the world." 
I only know he's the best I ever heard. 
He created a melodic style 
that brought the banjo into a category with piano and fiddle. 
Earl Scruggs said this about Bobby Thompson: 
"He was the first one to play that style of banjo that I ever heard. 
And there has never been anyone to top him." 

You may not have noticed him in the background on "Hee Haw". 
Bobby was content to let others have the spotlight. 
He's been referred to as one of Nashville's unsung heroes. 
This writing won't fix that, 
but it's a start. 

Bobby Thompson also played wonderful rhythm guitar, 
that drives countless hit records. 
For the last fifteen years of his life he couldn't play, 
and was confined to a wheelchair during his last years. 
He died of multiple sclerosis in 2005, 
at the age of 67. 

A great loss to music and to those who cared about him. 
We are among his mourners. 

I'm only including one link today... 
a recording Bobby Thompson made with us, 
featuring one of his most beautiful banjo solos: 
http://tinyurl.com/37fyvl


I think you'll enjoy it. 
Copyright © November 11, 2007 Jack Blanchard. All rights reserved.
Reprinted by permission.














©2007 www.jackandmisty.com. all rights reserved.