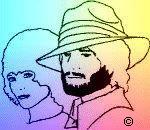 Now over 45,000 readers.

"The Best Kept Secret In Country Music"

If you've missed Jackie Burns, you've missed out. 

For the past hour and a half Misty and I have been listening 
to some of the most beautiful singing we've ever heard. 
Her records aren't easy to find, 
although she did duets with such stars as Wynn Stewart 
(I hope I spelled that right) 
and Tom T. Hall. 
Misty and I think she is the absolute best 
female solo country singer we've ever listened to! 
She can just about make a grown man cry with her blues and ballads, 
but at the end of the tape she does about twenty-five cartoon voices, 
which shows she's a little nuts, too. 
We like that in a person. 

If there were any justice, 
she would be making hit records today. 
She has a tremendous voice and a unique style. 
I hear traces of European singers, 
Vera Lynn, for instance. 

This is not written as a review. 
I don't do reviews, at least not serious ones. 
This is written as sort of a celebration! 
We've just experienced something new...and good! 
That's rare. 
It's new, even though the songs were recorded between 1968 and 1982. 
It's the best kept secret in country music, 
and just too damn good not to be heard. 

If there's a record label somewhere that cares about 
a great legend waiting too long in the wings, 
contact Misty and me, or Jackie directly. 
We don't want anything out of it, 
except to share the powerful talent of Jackie Burns with the world. 

Copyright © June 12, 2001 by Jack Blanchard. All rights reserved.














©2007 www.jackandmisty.com. all rights reserved.