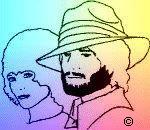 Now over 45,000 readers.

"Anatomy Of A Recording Session"

Putting together an album of your early work
is an emotional experience,
and not just the weirdness
of hearing yourself a thousand years younger.

Our minds go back to the original recording sessions.
We remember the genius of the Nashville A-team musicians,
and how they would take our ideas
and make them sound better than we had imagined.
Lloyd Green, Billy Sanford, and Hargus Robins
say that our music was the most creative they've played,
but it goes both ways.

Our sessions were like parties.
In fact, sometimes we hurried to get things done
before the party got too wild.
We liked to record late at night
and with all the musicians and singers there at once.
It got a feeling going
that you can't get with overdubbing.
Feeling is more important to us than perfection.

We always showed up prepared...
with numbered chord charts, demo tapes, and lyric sheets.
Our lyric sheets were color coded...
red text for Misty, and blue for me.

If there was overdubbing, it was usually Misty or me,
laying down a keyboard or guitar track,
that we couldn't do while singing.

Whenever we'd find a good engineer that was easy to work with
we'd asked for him as often as possible.
This is especially important to us
because we always oversee and take part in the mixdown.
When we first hit Nashville
and they weren't used to us,
some engineers resented our suggestions,
but after a while they became friends and allies.

A lot of our most popular recordings were done in one take.
We'd probably do a backup,
but wind up using the original.

Back to putting together the album of old and rare recordings...
We started with 16 on the song list,
then it went to 25,
and now it's at it's final resting place...20 songs.
Four of the songs were questionable
because of minor audio flaws,
but we decided that three of them were important enough to keep in.

The original sessions
of "Tennessee Birdwalk" and "You've Got Your Troubles (I've Got Mine)"
were an easy choice.
They've proven themselves.
Several good ones were songs we had completely forgotten.
It was like finding gold.

This is a fun project for us.
We were lucky to have record labels that gave us the freedom
and the budget
to make our music our way.

Our new CD is called "Beginnings"
That's Misty's idea.
We worked together on the song selection and the sound.

It's almost 1 AM
and we want to listen to it again.
I'm glad the neighbors like music.

Copyright © Nov. 16, 2004, Jack Blanchard. All rights reserved. Reprinted by permission.














©2007 www.jackandmisty.com. all rights reserved.