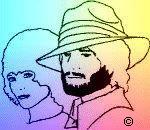 Now over 45,000 readers.

"All Twirl And No Merle"

Don't get me wrong. I like Austin City Limits, and other TV shows where the music is the thing,
but the visually elaborate videos and TV shows like the awards deal last night are just: 





Eye Candy. 

All Sizzle and No Steak. 

All Hat and No Cattle. 

All Fluff and No Stuff. 

All Bark and No Bite. 

All Sale and No Soul. 

All Strings and No Fiddles. 

All Twirl and No Merle. 

As Useful As A Helium Filled Bra. 

Dazzling You With Their Footwork. 

Scams.




HEY, KIDS!!!
VIDEO IS NOT PART OF THE MUSIC!!! 

Music is for the ears, and hopefully the brain. The flash is to cover up a lack of content. Fans
of the new plastic country, check this out: Try listening with your eyes closed. If you still
think it's great, go forth, but don't multiply. 

For the acid test, close your eyes and listen to a Don Gibson record, or Roger Miller, or any of
the other great country artists. Then get back to me. 

The slogan for last night's awards show should be: "Admit it. We've got you fooled!" 

I admit it. I don't love it.

Copyright © May 10, 2001 by Jack Blanchard. All rights reserved.














©2007 www.jackandmisty.com. all rights reserved.