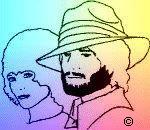 Now over 45,000 readers.

A VERY HIP CD REVIEW!!! 

Today I'm reviewing an obscure rock band called "Rectal Itch". My favorite song of theirs is
"Gimme Shark Liver, Baby", from their new CD album: "Donut Shaped Pillow". It has a soothing
effect on me. I can sit for hours and listen to it! 

In the video, the lead singer's eyes look like two Jujubes stuck on a taped baseball. It's great!
They move with an energy that gives real meaning to their name. But the music is what counts, and
they make a pile of it! Every few minutes they shake the saliva from their instruments, and they
play GUITARS!!! 

(This is my first record review, but I'm hip enough to know that reviewers use a lot of
exclamation points!!!!) 

Other recommended cuts are: "Can't Stop Dancin'", "Hot Cross Buns", "Weird Proctology", and
"Bucket Of Fire". You can't tell these guys not to quit their day job, because they never had
one! They're hip-hoppin' fools, who have created their style from scratch!!! 

I'm giving them 4 stars, because I'm so glad they're not in Country Music!!!!! 

Copyright © May 25, 2001 by Jack Blanchard. All rights reserved.














©2007 www.jackandmisty.com. all rights reserved.