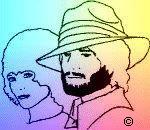 Now over 45,000 readers.

"A Strange Technical Experience"

I thought I'd gone blind, and my mother had been right! 

I stared at my monitor and it stared back, darkly. 

I turned off my computer, and turned it on again. I could hear the little whirring sounds
my PC makes when it's annoyed, so I knew it was on, but the screen was black. I crawled
behind my work station setup, where nobody has dared to go this century. I found stuff I
thought I'd lost, and had been looking all over for. After I found it, I realized it was
junk and tossed it in the round file. I'm never going back there again! 

Anyway, all the wires were plugged in right, but the monitor was still dark except for
the little green light on the power button, which told me it was on. Just in some kind
of a coma. Misty told me to reboot the whole damn thing, while holding my mouth a
certain way. That didn't work either, so I did the only logical thing: I looked for
somebody to blame. 

I called the technician at Office Depot and she said it sounded like a blown picture tube.
They offered to trade me for a new one, but we had to leave to do a show, so I pulled the
plug out of the wall and said: "Take that!" to my equipment. I feel sorry about that now. 

I got up today planning to take the thing back, when Misty said to try it one more time.
It came on, and works great! 

I was hoping to get a free new one. 

Copyright © June 24, 2001 by Jack Blanchard. All rights reserved.














©2007 www.jackandmisty.com. all rights reserved.