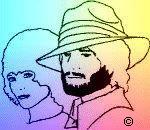 Now over 45,000 readers.

"A Saloon Worth Remembering"

There was a Maxl's bar on Main St. 
that claimed to have the longest bar in NY State.
It may have been called Maxl's Brau Strubel, 
or something like that. 

They served only locally brewed Iroquois draft, 
and my father told me 
they had the last nickel beer and free lunch in Buffalo. 
Their beer and lunch foods were still very cheap 
when I went there as a teen. 

You could legally drink in Buffalo at age 18. 
I looked older and started younger. 


The place was big. 
The lights in the chandeliers were miniature beer kegs. 
The floor was cement, 
and the tables and chairs were heavy oak. 
Not easy to swing at somebody. 

There was a beat-up old upright piano against one wall, 
which I played a couple of times, 
to attract free beer. 
A little more than half of the keys worked. 

An old man with an accordion 
started showing up on weekends. 
I didn't like him. 
He was cutting in on my territory, 
and my free beer. 

The bartenders could slide full glasses of beer 
the full length of the bar, 
just like in the old westerns. 

The clientele consisted of mostly old guys 
from the place's heyday. 

A saloon worth remembering. 

© October 7, 2003 Jack Blanchard. All rights reserved. 














©2007 www.jackandmisty.com. all rights reserved.