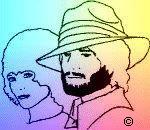 Now over 45,000 readers.

"A Look Inside The Writer's Brain"

Readers have asked how to tell which of my writings are true.

TRUTH: All stories about Misty, me, our family, and the characters in our life, 
are factual. Looking back it's pretty bizarre, but I've never made up anything about us.

(Here's something I've never written about: Misty was an abused child. Under age, 
she ran away and got married to escape from home. The groom turned out to be a violent 
and dangerous character, and the abuse continued. She finally got away from him, but not 
without him burning her car and belongings. After Misty and I had been together a couple 
of years, we read in The Miami Herald that he had been found murdered in an unrented room 
at the Voyager Motel, on US 1, in North Miami Beach. He had been shot to death, and was 
still clutching handfuls of rare coins. It's a mystery, but something like that was bound 
to happen to him.)

FICTION: I've written maybe half a dozen stories of the "Twilight Zone" genre:



The painting of the train moving through the desert, and the old couple who, 
when they die, ride away in the train, leaving empty tracks in the picture.

The homeless wino who dials the phone number of his long deceased grandmother, and 
she answers.

The man who escapes his nagging wife by stepping through a mirror, and going out the 
mirror room door into another world.

I wrote a song, "The Clock Of St. James", that has a murderer throw his victim from 
a bridge in an old dark city, and then he thinks the St. James steeple clock is an accusing 
eye. He runs through dim streets and alleys, but can't get away from it.



I like that kind of stuff, but none of it is true... as far as I know. Certain 
elements come from my experience. Misty and I owned the train picture. I still remember 
my grandmother's phone number, the one the wino dialed. I've always been fascinated by 
mirrors. I once designed a stage set where a statue of Hank Williams came to life and sang. 
It was done with mirrors. The Clock of St. James was actually the tower clock in the old
Nashville railroad station. These stories are never about us. File them under "Fiction".

FUNNY STUFF: Funny stories about Misty and me are true. The really weird ones are not. 
For instance:



The ballerina forced to dance "Swan Lake" and play the trombone at the same 
time.

Sam, the piano player from "Casablanca", in later years tries to keep up with the trends, 
and finally drops dead on his new digital bass pedals after singing "As Time Goes By" like 
Shania Twain.



These are pure flights of fancy. Sometimes they have a moral, or irony to make a point, 
but are mostly just to make us laugh. They are not true.

To wrap up: All my stories are true, except the weird humor and fantasy pieces about 
obviously fictitious characters. I hope you feel better. I do.

Copyright © May 5, 2001 by Jack Blanchard. All rights reserved.














©2007 www.jackandmisty.com. all rights reserved.