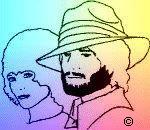 Now over 45,000 readers.

"A Letter From Bill Mack To Jack And Misty"

That desk is in a special spot on our patio. 
And yes ... Jack & Misty are among the most obvious names 
(among hundreds) you see. 
Still deep and clear. 

XM Satellite Radio is going so strong! 
This next month, in Washington D. C., 
we celebrate over one-million subscribers and it's going wild. 

Jack and Misty, this is the saving grace for our business of "country". 
When I hooked up with them two years ago, I was told, 
"We'll play what the people want to hear." 
And they have stuck by that statement ... 
on all of their music channels. 
No guiding charts; 
We simply pick up the phones, 
read the mail (regular mail and e-mail) ... 
and listen to all recordings! 
If it's good, it will be heard! 

We seldom check "labels". 
We listen to "content". New artist?  Veterans who are still great? 
It's a pleasure to allow them to be heard! 
God, how long has it been since that was a practice in broadcasting? 

Might add:  You hear Jack and Misty on a regular basis. 
You are requested! 
You guys, like several others, get better with time 
(Not age;  You're ageless). 

Where AM and FM have shut many doors, 
hurt many careers and caused total embarrassment 
via bad decisions, 
XM has opened up a completely new ballpark. 
And there is not a spot in the USA 
where you can't receive it clear-as-a-crystal ... 
and without the overload of commercials. 

Do you know the date of my first air-show on XM?  9-10-01! 
Next day, the towers and Washington D.C. were slugged 
and there were those who said, "Goodbye, XM!" 

Through a lot of prayers, 
a lot of backbone, 
and a tremendous amount of confidence, 
the new broadcast kid is now becoming a giant. 

I say this with the assurance it is a wonderful creation  ... 
now in action ... 
that will allow talent, such as you special people, 
to be heard as never before. 

Hope this makes your special day even better --- 
and it's a statement of FACT. 

Hang in with what you're doing. 
You are needed as never before. 

Love you guys! 
-Bill 

     *     *     * 
Thank you SO much, Bill! 

Your old friends, 
    Jack & Misty 

© October 8, 2003 Jack Blanchard. All rights reserved. 














©2007 www.jackandmisty.com. all rights reserved.