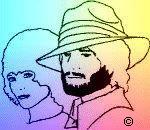 Now over 45,000 readers.

"A 2004 Recap"

Misty actually said this the other day: 
"The price of gas is so high, 
they're limiting their drive-by shootings." 

We came through the three hurricanes with a "new" home 
and an annoying knee injury. 
It doesn't hurt enough to get any good sympathy. 

We love the new place, 
especially the scenery through our ten living room windows. 

I won't say how we feel about the election results, 
but our intake of anti-depressants is up. 

We've made some new friends this year, 
and are just about breaking even on enemies.. 
Maybe we're not trying hard enough. 

Stardust compilation #52 arrived in our mailbox today 
from Buster and Barbara Doss. 
It's called The Magic of Country Music" 
and has a vintage cover photo of "Marvin the Marvelous" 
doing his magic. 
Our song "The End of the Wine" is track Number 8. (Hint. Hint.) 
You can hear a preview of it by clicking this link: 
http://www.kokosuniverse.com/jm/wma/the_wine.htm 

Our webmaster Jerry Withers is recuperating from an injury 
and is making intermittent appearances on our web site. 
Welcome back, Jerr. 
You can visit our home page here: 
http://tinyurl.com/552w6 
That's not our real web address, but it will get you there. 
If I put our actual web site address here, 
AOL will not give you this email. 

AOL blocks a lot of our emails 
because spammers have stolen our address 
and use it to sell body part enhancers. 
Also, AOL is nuts. 

Our friend Will Campbell has been seriously ill, 
but he's now home, and sending his funny emails again. 
You can't beat that for good news. 

Thanksgiving this year is called Turkey/Football Day. 
We like turkey, 
but when the football starts, we're outa there. 
(To paraphrase Will.) 

Mainstream country music is still sick 

My sister Val always makes the holidays special for us. 

We will miss my sister Ginny during the holidays. 

I enjoy the day after Thanksgiving. 
All the idiots are at the malls, giving each other the flu, 
and the neighborhood is quiet. 

It's sunny and 78 out there today. Disgusting. 
I want snow. 
Last year we were with Hal Willis in Nashville, 
and it felt like Christmas. 

We don't know whether to buy a Christmas tree or a car. 

We finally put out another CD, "Beginnings". 
It's our sixth one, and the first in three years. 
It's really not bad 
for our first annual farewell album. 

We still haven't found a computer mike 
that two of us can speak into 
to record radio liners. 
They all pick up the air conditioner, 
the neighbors fighting, and our local burglar. 
Our stage mikes won't work through the PC without an amplifier. 
Any suggestions? 

I hate to admit it, 
but we may be starting to enjoy life. 
I shouldn't have said that. 
Now something bad will happen. 

Happy holidays, 
    Jack & Misty 

PS: Click here for your Christmas card: 
http://tinyurl.com/52yq4 

Copyright © Nov. 22, 2004, Jack Blanchard. All rights reserved. Reprinted by permission.














©2007 www.jackandmisty.com. all rights reserved.